The Dragonfly Golf US team is growing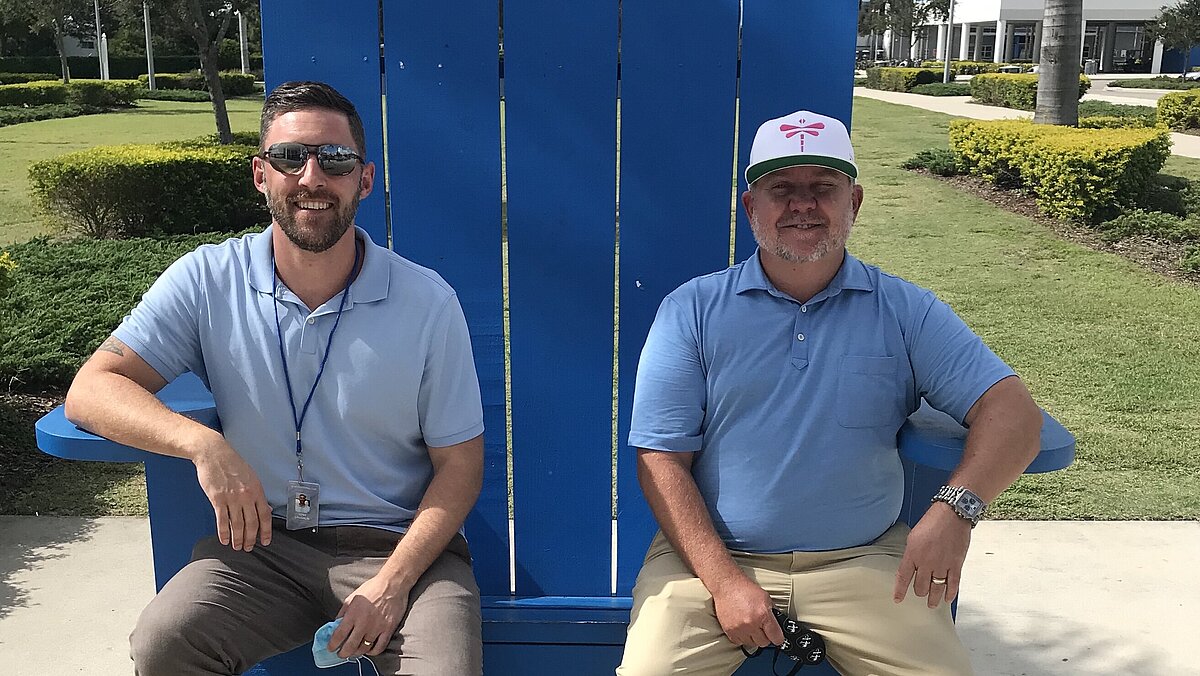 Help us welcome Cody Vaughn as US Sales and Business Development Director and Tony Laughlin as Director of Sports Science.
Dragonfly Golf powered by Guided Knowledge is expanding its U.S. team. Help us welcome Cody Vaughn as U.S. Sales and Business Development Director and Tony Laughlin as Director of Sports Science. Both Cody and Tony will be based in Florida, a leading golf destination for 1.6M golfers playing at more than 1,300 golf clubs.
Dragonfly Golf makes 3D golf analysis mobile, accessible and more affordable. The Dragonfly Golf system is the world's most advanced smart suit and it is synchronized to an interactive coaching app. Together, they measure the precise detail of a golfers' swing and deliver feedback via a customized 3D avatar and real-time metrics to inform analysis.
"Golf is booming in the U.S. despite the pandemic with 12 million incremental rounds played to date this year and equipment sales breaking records, topping $1B in Q3. We could not be more pleased to scale the team in the U.S. to support the business," says David Stephens, Guided Knowledge CEO. "Cody and Tony's exceptional expertise in motion capture tuition and product development plus their deep passion for sport creates a great foundation for our U.S. operations."
Cody Vaughn, U.S. Sales and Business Development Director

Cody brings nearly 20 years of PGA certified golf instruction and 3D golf tuition to the Dragonfly Golf team. Most recently Cody was the national sales manager at Blast Motion (golf channel) and previously at Miura Golf where he worked with some of the world's top golf professionals. Additionally, for many years Cody was the co-owner and creator of GV Golf Performance, a top golf performance group in North Florida featuring swing coaching, mental coaching, and tournament preparation services, where he worked with top amateurs and professionals including LPGA rookie Haley Moore. Today, Cody is leading the efforts to rollout Dragonfly Golf across Florida and the U.S. He will be working closely with golf professionals to integrate Dragonfly Golf's 3D motion capture technology into serious golfers' training regimens.
"Dragonfly Golf is the future of professional golf training. It moves 3D motion capture from the studio to the range and beyond to the course. The ability for players to be suited-up and hitting shots on the East Coast while their instructor can break down and analyze swings in real-time from the West Coast is a real game changer," says Vaughn. "Dragonfly Golf makes virtual coaching truly possible."
If you would like more information about the Dragonfly Golf system or would like to book a Dragonfly Golf experience, contact Cody at +1 781-354-6659 or email at cody.vaughn@guidedknowledge.com.
Tony Laughlin, Director of Sports Science

Tony brings more than a decade of biomechanical and sports science experience to the Dragonfly Golf team. Previously Tony led biomechanics operations for Motus Global, a wearable technology company that developed the first technology device approved for in-game use in Major League Baseball (MLB). In this role, the lion's share of Tony time was working with coaches, students, and professional athletes to develop wearable products that can be incorporated into performance training programs for golf, baseball, football, and tennis. Throughout his career in biomechanics, Tony has worked with thousands of athletes and coaches across all levels of sport to implement biomechanical testing into their performance training programs.
Now Tony leads Dragonfly Golf's sports science operations in the U.S. and will be coordinating with IMG Academy, where Dragonfly Golf is the "Official Wearable 3D Motion System" for the Golf Program. His expertise in applied sports biomechanics, in particular using wearable technologies for performance improvement of elite athletes and injury prevention, is pivotal in developing future applications for Guided Knowledge's technology.
"The Dragonfly Golf system is the first-of-its-kind to provide athletes and coaches the ability to track full-body biomechanics on the course and in the field of play. Integrating the smart suit into practice and play allows athletes to train smarter, not harder to achieve optimal performance outcomes. I am thrilled to be a part of this team and looking forward to working with elite athletes and coaches to integrate this cutting-edge 3D motion capture technology into their training," says Laughlin.

Dragonfly Golf officially launched at the 2020 PGA Merchandise Show, where Golf Digest heralded, "This is the coolest product golf has seen in years ... and it might revolutionize the industry, too"
Back